Having a bet on the NBA can be fun and exciting. It can turn an otherwise boring game between 2 teams without a star player into an edge of your seat affair.
If you love watching the NBA and have a wealth of knowledge but are new to betting it can be daunting to get into it at first, so this article will help get you up to speed. Bookmark it and refer back to this page if you're ever stuck, and you can always contact the Playup customer support if you're unsure on what a bet means, they will be happy to help!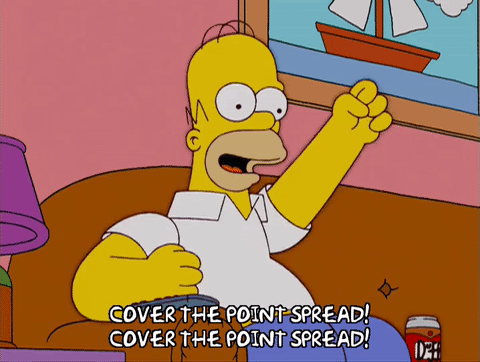 The main ways to bet on the NBA
The most popular bets people place on the NBA are:
Match winner
Lines
Totals
Multi bets
Player Performance
Futures bets
Bet On the NBA Match Winners
This one is pretty easy to understand, you are simply betting on which team will win the game. A match winner bet on the NBA include any extra overtime periods. So if a game goes to overtime and your team wins, then you still win your bet.
To bet on NBA bets like this at PlayUp, after you've created and funded your account, you just need to head to basketball by clicking on Sports in the left Menu > Basketball > NBA and then click on the odds for the team that you want to add it to the bet slip, and enter in the amount that you want to bet on them. In this example below, Playup is offering $3.05 odds to bet on the Chicago Bulls, and I've entered in a $50 bet. When you click Confirm, you will get a bet alert confirmation to let you know the bet has been placed.
Betting On NBA Lines
Lines are like an imaginary head start given to one team. Depending on how the bookies see it playing out, it could be a small line if they expect a tight contest, or a massive line if they're expecting a blowout.
Lines normally (but not always) have a .5 at the end, to ensure there is an outcome either way.
For example:
The Kings Vs Warriors game has a line of 4.5 at Playup, so if you bet on the Kings with the -4.5 you need them to win by 5 or more to win your bet. If you bet on the Warriors, then if they lose by 4 or less, or win you will collect on your bet.
The easiest way to work it out is to just mentally add/deduct the line from your team's total at the end of the game and see if they would still win.
E.g. If Kings beat the Warriors 111-107
Then you would have to minus the 4.5 from their side which would make the final score: 106.5-107
This changes them from a 4 pt win, to half point losers. Bad news if you bet on the Kings, but great news if you took the Warriors!
The best way to look at lines for games like this: if you feel like a team is going to win comfortably, and the 1.53 odds isn't juicy enough to make it worthwhile, then consider taking them against the point spread and beef up your payout to 1.95 odds if they win.
Conversely, if you want to take the underdog to win because you think they will be in with a fighting chance, but you're second guessing yourself and want the extra security of having that cushion on the scoreboard, you may want to sacrifice a little bit in the odds to go for a safer bet.
Note line bets include the final score after any overtime periods and the match is decided.
Betting On NBA Game Totals
Totals are another fun type of bet on the NBA. Bookies will offer a single number for the game, and you have to pick if the total points combined for both teams will go over or under that number.
So the Kings Vs Warriors example above has a total offered at 209.5, meaning you can either take Over: and bet that the two teams will score 210 combined or more. Or you can take Under: and bet that the two teams will score 209 or less.
Game totals bets include any overtime periods. It can help to look at what each team's recent games have been like, what they normally do head to head, whether they defend the perimeter well or poorly.
Here's a spreadsheet you can use to follow along with NBA totals to give a projection for the total they're on pace to reach:
So all you need to do is enter each team's score in the blue columns in the left, and as the game goes on, update how many minutes are remaining in each quarter, and it will calculate the total they're headed towards.
So the example in the screenshot above, shows that if the score is 36-25 with 9 and a half minutes to go in the 2nd quarter, the projected total is 201.9
Here's the link for the excel file <<
Feel free to link this page to anyone that likes to bet totals that would find that spreadsheet useful!
This takes out the guess work for how your bet is doing, with excel doing the calculation leaving you free to scream at the TV screen after each missed free throw and turnover!
Betting On NBA Multis
So, what is a Multi Bet?
A multi (also known as an accumulator, or a parlay bet) is when you go for broke and put all your bets together in 1 betslip, and you need to get all of them correct to get paid out at much higher odds.
For instance, an 8-leg multi would mean you've picked out 8 bets, and put them all in your bet slip and the odds for each one is combined for a potentially huge payout. The downside is whether you get 1/8 correct or even if you get 7/8 correct, your bet will lose all the same. But if you hit on each and every selection the payout on your bet can be glorious!
So for example, if you have a $10 bet on three underdog teams paying at $7.50 odds, $6.10 odds, and $5.30 odds like this example on the right, then if all 3 win, the collect can balloon out to a huge sum.
$10 x 7.50 x 6.10 x 5.30 = a $2,424.75 win! Off just $10 being risked.
If you're anything like me and my mates you will experience the soul crushing defeat when your last leg of a multi lets you down, but nothing beats the feeling when the stars align and you bag a massive multi!
Bet on the NBA Player Performance markets
With my background playing a lot of NBA fantasy league over the years, these types of bets are the most fun for me – betting on how an individual player will perform in a game.
If you follow the NBA obsessively, you begin to get used to substitution patterns, which players will take shots at certain times, which players get on a roll, which are due for a good game, and you start to notice value in the odds being offered
I find there's often a ton of value to be found in these markets, because if you're staying up to date on Fantasy Basketball News Sites, reading Twitter Updates from beat reporters and things of that nature, you can occasionally find yourself a gem of a bet.
It sometimes helps to look at a player's Splits (their stats when starting vs when they're coming off the bench). This is sometimes a good indicator of what they are capable of doing when the player ahead of them is injured.
Taking a look at an example of this, we can see Spencer Dinwiddie, who is stepping up in a big way in the absence of Kyrie Irving:
Undoubtedly the bookies have adjusted their lines for Dinwiddie by now, but this is one to keep in mind for later in the season when Kyrie is back and filling up boxscores again – if he sits a game for rest, be ready to slam the over on Dinwiddie.
Another really good indicator of a player worth betting on overs, is their per-36 minute production.
It could be a player that rarely starts or gets a lot of court time. A perfect example of this is Boban Marjanovic. Throughout his career he has averaged under 10 minutes per game, but his statistical production when he gets court time is off the charts:
Knowing this, it makes a lot of sense to keep track of which players are leading the NBA in certain stats in the per 36 minutes rankings. So that if one of those players gets an opportunity to start and get big minutes, then you could find some excellent bets to place.
Betting on NBA Futures
Futures bets are both good and bad at times, it means your funds are locked up for quite a while, but also can give you much more bang for your buck with year-long entertainment following your bet. This includes things like, NBA Championship winner markets (which team will win the NBA Title), Division Winners (Which team will win their Division).
Futures Bets also include betting on which players will win the various NBA awards like MVP, Most Improved Player Award, Rookie of the Year and more.
These can often have great value if you notice a trend of a player building up a lot of big numbers and media hype. For instance Luka Doncic started the season at very long odds for MVP, something like 100-1, and is now into $5.50 at Playup.
It also makes it fun to follow how a player and team does for the season. Keeps things interesting!
The NBA MVP odds at Playup can be seen here, check the website for the most up to date odds:
There are many more types of bets offered at Playup, with literally hundreds of betting options for every game. This includes everything from which player will score the first basket of a game, to who will have more rebounds out of 2 players head to head. No matter what your betting preference you'll find what you're after.
Best of luck with your NBA bets this season!